Day 1: Arrive Hanoi
Arrive in Hanoi. Transfer to hotel. Time relaxing for promenade around Hoan Kiem Lake and ancient, yet lively Old Quarter. Ovenight at Classic hotel.
Day 2: Hanoi City Tour (B,L,D)
Visit HoChiMinh Mausoleum, HoChiMinh stilt house, One pillar pagoda and Temple of Literature. Afternoon exploring of Hanoi's silk, art or visit Ethnology museum and other museums. Night train to Lao Cai.
Day 3: Lao Cai - Bac Ha Sunday Market (B,L,D)
6.00 am arrive in LaoCai. Breakfast, jeep transfer to BaoNhai, bike ride 20 km up hill to Bac Ha. Visit the most colorful hill tribe market day. Afternoon we ride to H?mong village around Bac Ha. O/N SaoMai hotel.
Day 4: Bac Ha to Sapa ~ 50km (B,L,D)
Moring transfer to LaoCai, chanllenge climb up 35km to Sapa (alt. +1,550m). Afternoon cycling around Sapa, visit to TaVan, a village of the Giay minority. Overnight at hotel in Sapa.
Day 5: Sapa - Heaven gate - TamDuong ~80km (B,L,D)
Best mountain view today, about 3 hours up hill, with a stop over Silver waterfalls for relax before we conquer the highest mountain pass Oquiho. Then decending down the great panoramic view of HoangLienSon mt. range. Lunch en route. Nice villages of Hmong and ?coins? Dao near BinhLu. O/N PhuongThanh hotel.
Day 6: TamDuong - Paso - LaiChau ~115km (B,L,D)
Some part of the road is bad, but great view along NamNa river. Scenic Da river from HangTom suspension bridge. O/N Lan Anh hotel.
Day 7: LaiChau - DienBien. ~ 105km (B,L,D)
A nice ride day with stop over the Red H?mong village before climb up to Mathiho pass. O/N Muong Thanh hotel.
Day 8: DienBien - TuanGiao ~ 80km (B,L,D)
Ride back to the former French battlefield : A1 hill, DeCastries bunker, DienBien museum? you will see some old US weapons here too. Then we have easy ride through many Thai villages to TuanGiao. O/N TuanGiao guesthouse.
Day 9: TuanGiao - PhaDin pass - SonLa ~ 85km (B,L,D)
Challenge 20 km winding climb up hill and 15 km down hill. Nice landscape of green rice fields and karst valley. Light traffic, wandering water buffaloes, Thai and Hmong kids. O/N Trade Union hotel.
Day 10: SonLa - MocChau - MaiChau ~120km (B,L,D)
Bus support available. The road passes beneath spectacular karst cliffs with the valley floor visible far below. Lots of Black Thai villages, descending to MaiChau valley. O/N on stilt house of Thai.
Day 11: MaiChau - PuLuong ~50km (B,L,D)
A relaxing day of cycling, boat cruise, walking to visit villages. O/N on stilt house.
Day 12: MaiChau - Hanoi ~ 95km (B,L,D)
First 15km out of MaiChau is up ThungNhuoi pass, then we go 17km down to ManDuc and two more gentle hill to DocCun. (25km). We take a small route to BaiChao onto LuongSon. Our bus pick up and come back to Hanoi. Farewell dinner. Overnight at hotel.
Day 13: Departure (B)
Transfer to airport for departure.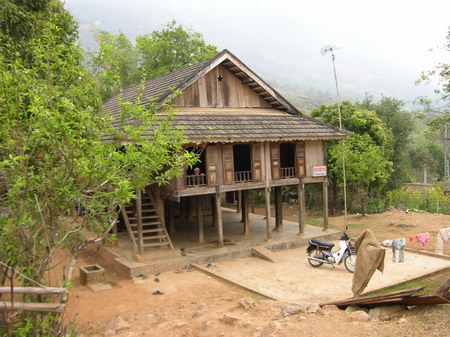 * All entrance fees, travel permit.
* Accommodation: Standard hotel, twin share.
* Meals: Full board: Breakfast, Lunch, Dinner with local Vietnamese food.
* Transportation: Air-condition bus or minivan support with cold water.
* mountain bike.
* Guide: Experienced cyling tour guide.