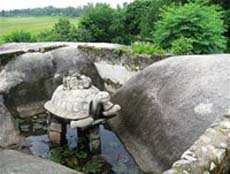 Anyone who has visited the Mekong Delta province of An Giang has probably heard about That Son Mountain Range (otherwise known as Bay Nui) near the Cambodian border.
The Mountain Range has more than 40 peaks. The seven that are best known are Thien Cam Son, Ngoa Long Son, Ngu Ho Son, Phung Hoang Son, Thuy Dai Son, Anh Vu Son and Lien Hoa Son. Among them, Thuy Dai Son or Nui Nuoc (water mountain) is the smallest.
The mountain is about 54 meters tall and about a kilometer in circumference, surrounded by rice fields. Despite its small size, the locals believe the mountain is mysterious and sacred; so many pilgrims often come to Linh Buu Pagoda to worship the Buddha and pray for a better life and harvest.
There is also a sacred old stone turtle that protects the mountain. The turtle is on the top so pilgrims have to climb up the path to show their respect to the turtle that they believe is a god.
The pagoda was built in 1884.
Nui Nuoc has some small caves and very old trees to explore on the peak.
It's a nice hike for nature enthusiasts as the path is shaded by the large trees.